Podcast: Play in new window | Download
Subscribe to the show! iTunes | Android | RSS | More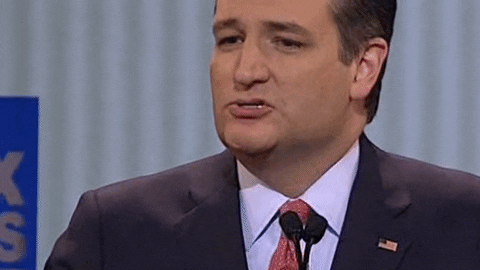 Ted Cruz is still clinging to hope that he may become the Republican nominee for president. The front runner, Donald Trump, has been threatening for a week that he would spill the beans on Ted Cruz' wife, whatever that means. In a completely unrelated story a few days later published by The National Enquirer, who endorsed Trump, Ted Cruz allegedly had no less than five extramarital affairs. There is as of yet no proof, but it's still a pretty safe allegation. I usually assume Republican politicians have had at least three affairs based on the law of averages, and the story only needs to be right about one of the affairs to bring down Ted Cruz. A broken clock is right twice a day. For those of us who don't live life afraid of an invisible man in the sky, adultery is a crime somewhere slightly above petty theft – most of us have done it, but we try not to. For someone who builds his entire platform on family values and obeying the rules of the sky man, Ted Cruz can count on this sinking his campaign if any shred of proof comes out. Until then, the deny strategy should bail out the water fast enough.
Yoga is traditionally a practice performed by either extremely healthy and enlightened people, or pretentious douches who like saying the word yoga. This week we cover the story of an elementary school whose students are
taught yoga as a way to relieve stress. While it's true the rigors of third grade math are terrifying to most adults, especially after common core, one can't help but wonder why stress relieving activities are needed in elementary school. Regardless, yoga is generally considered a healthy activity, so no harm, no foul, right? Wrong. Yoga is, in our modern culture, vaguely kind of loosely associated with some religion maybe that isn't popular in America. So, it's probably evil and/or training for terrorist cells. Parents complained that religion has no place in schools. Point to the parents, if we're going with yoga as a religious activity, which it probably isn't in this case. But hey, I like enforcing the no religion in schools rule. Too bad these same parents will undoubtedly change their tune when little Timmy wants to say the Our Father before morning announcements.
If you've ever listened to this show, you know we have a deep amount of love and respect for millennials. This week one of them climbed a tree and threw apples at people because he couldn't take the pressures of living in the first world anymore. Police were called to the scene, presumably to demonstrate what a waste of resources looks like. However, the more astounding millennial story this week involved Emory University. Someone wrote Trump 2016 in chalk on the sidewalk, and students immediately felt triggered by this micro-aggression and protested the university for not putting a stop to this. The university responded with the only thing that has been show to shut millennials up- by providing a safe space. Crisis averted. No word yet on how exactly the safe space system will work if Trump actually becomes president.
Fearing that this week's episode was a bit too low-brow, we cap off the show with a viral story about poop. The story is gaining popularity on social media, because it's quite comical, but also extremely relatable… if you're insane. Actually I can totally see myself doing something like what the girl does in the story. We shouldn't judge her; we should be praising her for her willingness to overcome her embarrassment and still have sex with a dude from a grocery store and to find the courage to share this story anyway, despite successfully hiding the events that happened. Everyday heroes always go unnoticed; let's take this rare opportunity to notice one.